SocialCar (http://socialcar-project.eu/) is a H2020 European research project just completed, coordinated by FIT Consulting and carried out by a large European consortium, including, among other NEWBITS project partner TTS Italia. The project addressed intermodal mobility, moving from the initial state-of-the-art, where journey planning tools do not provide information for multi-modal trips connecting individual and collective transport services; often, the proposed options require multiple public transport interchanges and result in long and convoluted multi-leg journeys. SocialCar enhances the public transport network by a wider variety of services including carpooling/sharing, bike sharing, taxi and other on-demand services. Citizens can gain access to a unique service that optimises the use of all available mobility resources in the sharing economy.
SocialCar developed an IT platform and related mobile app, made available as Open Source, providing planning and booking services for multimodal trips: the unique feature of the system is to discover and propose to users travel itineraries combining both Public Transport (the scheduled service) and carpooling or other on-demand services, enhancing therefore the potentialities of the whole mobility network in cities. By developing data processing flows and algorithms, the project responded to the challenge of matching travel requests with the integrated public-private transport supply.
With an Innovation Management Board, the project involved external influencers who regularly provided advice and paved the way for a market roll-out and mainstreaming of the developed solutions. SocialCar is a research and innovation action bringing together ITS developers, social and economic scientists, transport engineers, carpooling providers and public authorities from Italy, Greece, United Kingdom, Luxembourg, Poland, Switzerland, the Former Yugoslav Republic of Macedonia, Croatia, Slovenia, the Netherlands, Hungary, Spain and Belgium. The project solutions were subjected to a three-level trial in 10 European test sites. The most advanced trial level examined the potential for early adoption by end-users in 4 cities: Brussels, Edinburgh, Canton Ticino and Ljubljana.
SocialCar main objectives are to reduce travel times and costs, to increase comfort and convenience and to contribute to a better environmental performance of urban transport networks. The achieved benefits are relating to social inclusion, service orientation for citizens, accessibility of urban areas and transport efficiency. Consequently, SocialCar, in its post-project uptake, is expected to contribute to the EU 2020 targets on energy efficiency, in particular to the efforts to increase the car occupancy rate and it is now looking for possible investing subject willing to deploy the IT platform in other cities. SocialCar will alleviate traffic congestion and carbon footprint, will reduce the operating costs of individual car-poolers and will increase the share of public transport users.
The project produced tangible results summarised as follows:
An integrated software platform made available as Open Source for further developments.
A novel data exchange protocol especially designed for carpooling, documented in public project deliverables.
A deep evaluation framework and related assessment reporting the outcomes of project experimentations.
Several business models for potential product roll-out, along with market framework analysis.
The financial assessment elaborated for the 10 project sites with a dedicated tool publicly available and easily configurable.
SocialCar is a clear step beyond state of the art solutions, offering a completely new approach towards urban and smart mobility.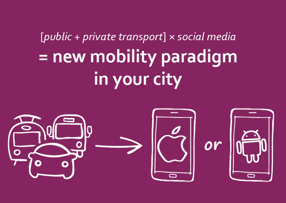 Do you think that such a collaboration collaboration model among public transport authorities and local business actors (i.e. private mobility operators, data owner and IT providers) would benefit your city? Tell us your view!